About the FSM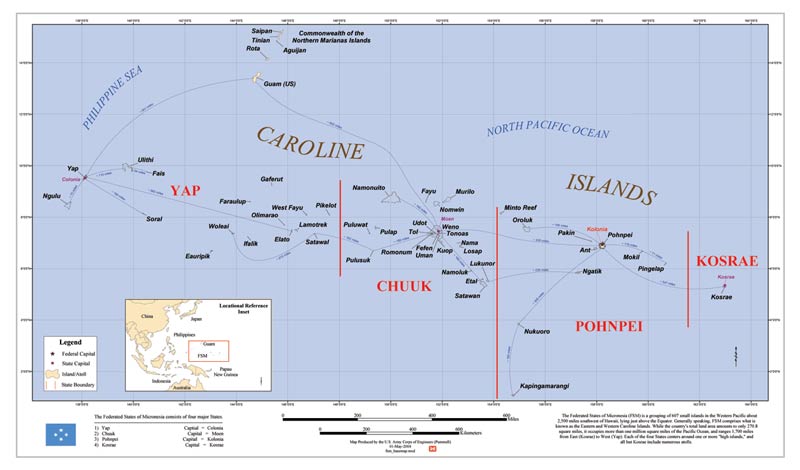 | | |
| --- | --- |
| FSM Flag | |
| Motto | Peace Unity Liberty |
| Anthem | |
| Capital | Palikir, Pohnpei: 6°55′N 158°11′E6.917°N 158.183°E |
| Official Language | English (national; local languages are used at state and municipal levels) |
| Government | |
| President | |
| Vice President | The Honorable Yoshiwo Palikkun George |
| Speaker of Congress | Wesley W. Simina |
| Independence | from U.S.-administered UN Trusteeship, 3 November 1986 |
| Area | 702 km2 or 270.6 sq. miles in land mass overan ocean area of 2,600,000 km or 1,000,000 sq miles |
| Population | 102,624 (2010) |
| GDP | $243.1 million, per capita $2,343 (2010) |
| Currency | United States Dollar (USD) |
| Time Zone | (UTC+10 and +11) |
The Federated States of Micronesia (FSM) is an independent, sovereign island nation of four States, [Yap (

), Chuuk (

), Pohnpei (

), and Kosrae (

)]. There are about 607 islands (about 702 km2or 270.6sq miles of land mass scattered over 2,600,000 km or 1,000,000 sq miles) of area in the Western Pacific Ocean just north of the equator. Yap State lies at the Western part of the country and is the closest to Japan, just one (1) hour ahead of Japan, while Pohnpei, Chuuk and Kosrae States are only two (2) hours ahead of Japan. The Capital of FSM is Palikirlocated in the State of Pohnpei. The term Micronesia (literally means small islands) sometimes may be referred to as the Federated States of Micronesia or the Micronesia region as a whole comprising of the Republic of Palau, the Commonwealth of Guam, Commonwealth of Northern Marianas Islands, Federated States of Micronesia, Republic of Marshall Islands, Nauru and Kiribati.
The FSM was formerly a part of the Trust Territory of the Pacific Islands (TTPI), a United Nations Trust Territory under U.S. administration, but formed its own constitutional government on May 10, 1979, becoming a sovereign state after independence was attained on November 3, 1986 with a Compact of Free Association with the United States. In international politics, the Federated States of Micronesia has a seat in the United Nations and often votes with the United States with respect to United Nations General Assembly resolutions.
The FSM Constitution guarantees fundamental human rights and establishes a separation of governmental power. The FSM Constitution contains a Declaration of Rights similar to the U.S. Bill of Rights, specifying basic standards of human rights consistent with international norms. The unicameral Congress has fourteen members elected by popular vote. The four at-large senators—one from each state—serve four-year terms; the remaining ten senators represent single-member districts based on population, and serve two-year terms. The President and Vice President are elected by Congress from among the four at-large senators to serve four-year terms in the executive branch. The President can serve up to two consecutive terms, while the Vice President has no term limitation. Their congressional seats are then filled by special elections. The President and Vice President are supported by an appointed cabinet. The FSM Constitution, like that of the U.S., provides for the "separation and balance" of power between three branches: Executive, Legislative and Judiciary. FSM is politically stable and has no formal political parties. 
Each State in the Federated States of Micronesia (Yap, Chuuk, Pohnpei, and Kosrae) is serviced by an international airport and high speed telecommunication systems, making business transactions much easier and efficient. Pohnpei State is hooked-up to a submarine fiber optic cable and plan is already underway for the other three States to be hooked-up soon.
The airport runway extension in Pohnpei State allows for direct flights from Japan to FSM. The time difference between Japan and FSM Capitol is two hours, making it convenient for prospect Japanese captives to seriously consider FSM as favorable domicile for captive insurance companies, among other investment opportunities. In fact, FSM Captive Insurance laws and regulations are tailored with flexibilities to benefit especially Japanese captive companies.