Chairman Oliver's Message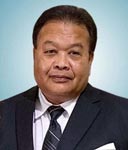 On behalf of the Insurance Board, WELCOME to our website!
Our website is intended to assist you so you know who we are, what we do, and why. Feel free to contact our staff if you do not find what you're looking for or need additional information. We want to know what information may be of interest to you or how we could be of any better assistance to you, whether be on regular or captive insurance, or both.
The Insurance Board is here to provide oversight to the insurance marketplace in the Federated States of Micronesia. To that purpose we want to let you know that we are open for business. We want the insurance companies who do business in our country to be successful and the Insurance Board is committed to the fair regulation of both regular and captive insurance companies to make that happen. We commit ourselves to making sure the insurance system is sound, safe, stable, fair, and healthy for every person.
We believe the FSM can be a world class captive insurance domicile. We focus our efforts on Japanese corporations interested in using a FSM captive to meet their risk management and risk financing goals. FSM captive insurance laws are designed to meet the unique and demanding standards of leading Japanese businesses. Please contact us if you are interested in establishing or redomesticating a captive insurance company to the Federated States of Micronesia.
Thank you and once again we look forward to serving you.